Statement From Assemblywoman Cristina Garcia On Election Victory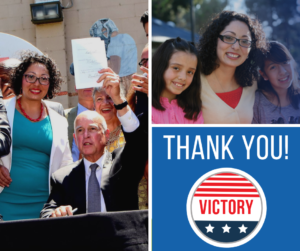 Bell Gardens, CA – Assemblywoman Cristina Garcia issued the following statement on today's election victory.
"Like many communities across California and our nation, voters went to the polls today and expressed their collective disdain for the politics of hate, division, and the undue influence of special interest groups over our civic government. In my district, voters went further by rejecting those who have attempted to blatantly distort and lie about the successes we have achieved in demanding that the needs of our communities no longer be ignored.
Today, by honoring me with a large electoral victory, voters of the 58th District reminded those same special interests that they are not blind to the underlying motives for their negative attacks. By rejecting the deliberate negative campaign that spent over $2 million in this race, residents of the 58th Assembly District made it clear that outside special interest groups will not decide who best represents their hopes and values.
Finally, the voters of the 58th Assembly District have also made it clear today that bullying tactics aimed at keeping them, and their elected representatives, quiet on crucial issues such as environmental racism will never be accepted. We won't be bullied. We are not going back to the margins. We are taking our seats at the table.
I am proud to be re-elected to represent the residents of southeast Los Angeles County and will continue to be the same vocal advocate for justice and equity. I look forward to returning to Sacramento and fully engaging in the legislative process and bringing a full legislative package that continues to address key issue such as environmental racism and economic opportunities for the communities I represent."
– Assemblywoman Cristina Garcia